One of my favorite weddings of 2018 and one of the biggest transformations. An everyday ski resort at Mt Brighton, went from basic tables and chairs to a stunning fall wedding.
But let's start at the beginning of Emily and Steve's story. Each of their families knew other and over the years, they had always had fun together. Emily had moved to Chicago for her work but after another meeting with Steve, love blossomed. The rest is history with Emily now back in Michigan to be with Steve and family.
When Emily and Steve, first contacted Nicola, they wanted a large wedding where everyone could enjoy themselves but Emily, she was a girl from Chicago and wanted a little sophistication and elegance. We gave her that and then some.
Although a fall wedding, we didn't want the typical colors but to work with what is at the venue. Contemporary black and metal chairs, brick walls and a modern feel. I created a modern but very pretty design of burgundy and gray linens, to work with the black and gray chairs, high florals so that they do not get lost in the high ceilings of the venue, with glass beaded chargers, folded napkins and floral menu cards.
The floorplan was always a challenge with a very large fireplace splitting the room into two areas. To create a different feel, the family and VIP tables were created a very large cross with 24 guests seated on each spoke of the cross. It was definitely a showstopper when the guests walked into the reception area.
Throughout the planning, Emily and Steve were always thinking of their guests with fun thoughtful touches, such as donut wall with cute donut bags for guests to take home their favorite donut.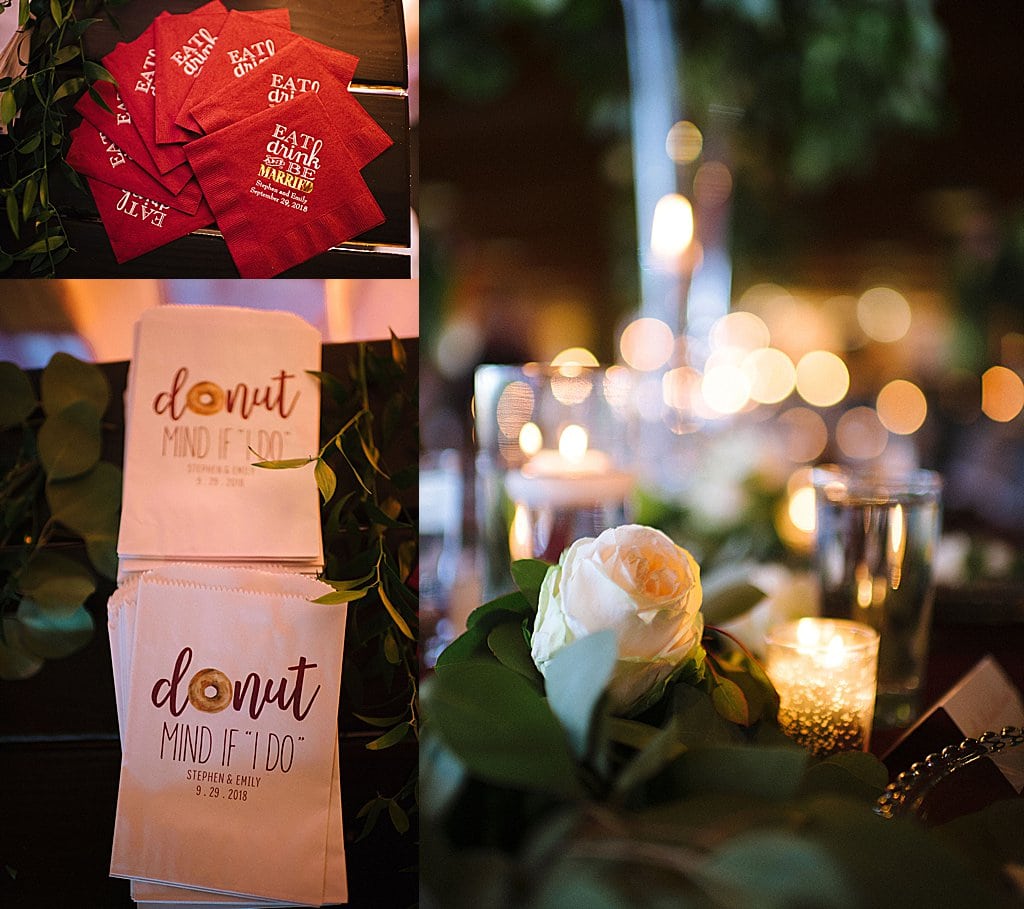 Or the taco truck at the end of the evening, this was definitely a hit later in the evening.
Special thanks to all the great vendors, that made this special transformation a reality.
Venue: Mt Brighton
Lighting and Draping: The Lighting Guy
Linens and Rentals: Special Occasions
Floral Design: Floral Sense
Photography: Sarah Kossuch Photography