It's that time of year again, when we start to think about the past year and the next year. For me, I start to think about the weddings I have planned and designed and how these designs will influence the next year's designs. Let's review the wedding trends for 2019 I anticipate seeing.
Richer Colors
I am seeing a lot more richer and bolder colors, moving away from the white and greenery. More towards purples, think eggplant, brighter greens, think emeralds. Brides are becoming more adventurous in their color choices. Moving away from the rose gold and blushes, using the gray as the neutral to pair with an eggplant napkin to create a richer dimension to the design.
Florals
A few years ago thick garlands was definitely the trend, last year we saw more looser greens in the center of the table, and next year there will an abundant of greenery bringing the outdoors in with added richness.
Still seeing tall centerpieces but low levels centerpieces are definitely a more popular option. It is predicted that Dahlias will be the flower of 2019, Dahlias are a very versatile flower and so pretty.
Décor and Design
Candles, are still big, either colored candles or just the ivory/white variety. Earlier I talked about eggplant napkins to bring the richer colors, also candles can do this. Often using glass candle holders with an eggplant napkin or blue or gray napkins. See the images below for the different looks with the candles and napkins
For a more fresh, airy, Summer weddings, the glass candle sticks are perfect. Still get the warm glow from the candles but not the heaviness from the gold candlesticks.
Velvets, were a different linen used in a few events but not as popular as everyone thought they would be. My favorite was the gray velvet linen.
Balloons, not the balloons from back in the day, but really colorful and fun sculptures. That can be used in so many different ways, from an arch to a very creative backdrop.
Or combining two trends into one, the flower or green/garden wall with balloons. The flower wall is very popular option now as either a backdrop to the head table or as an accent wall for the photobooth or entrance into the reception. Another trend is with phases or words on the walls in either gold or florescent colors.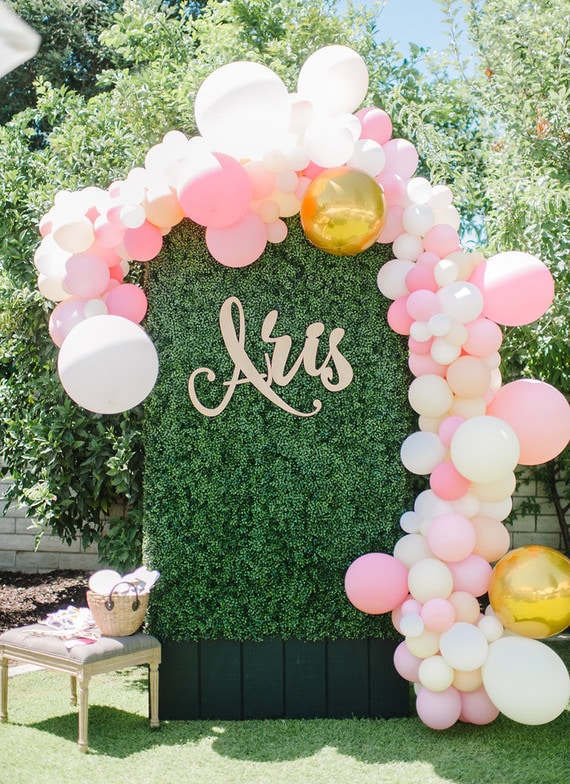 The focal point of the ceremony has been changing but one of my favorite trends which I think is here to stay for another year, is the different shape frames, from the more traditional rectangle, to the circular ones or even hexagon in gold or brass.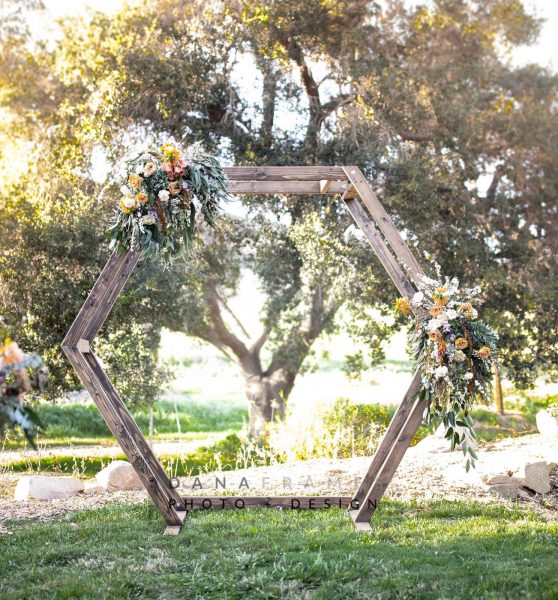 Event Branding and Stationery
What is event branding? Think of it as your wedding logo or your wedding brand. This can be anything from a monogram of your initials to an image that is specific to you both as a couple.
Over the years I have seen this grow in popularity, once you have your monogram designed this can be used in so many ways. To start with the invitation, which really sets the feel of the wedding. You can now use on your wedding website and on the day of stationery products. Ceremony programs, signage, cocktail napkins, menu cards, favors, welcome bags the list is endless. Other ways to use the design, on the wedding cake, and a monogram on the dance floor. You can give a file of your logo to the lighting specialists and they can create a filter for the lights.
This creates a cohesive design throughout your wedding day and of course you can use on your thank you cards, thanking all your guests for your gifts.
Wedding Dresses
Lets talk dresses, this is often the first big decision and purchase that you will make. It can often determine the feel of the whole wedding.
After The Royal Wedding and of course Megan Markel's dress, there has definitely been a movement towards simple and elegant designs for dresses. This style is of course is not everyone but I love the classic look.
The other trend that I am seeing a lot of is the pockets in the dress. Best design detail ever. Every bride that has these in her dresses just loves them. Just big enough to put a lipstick and a few bobbi pins in.
Food
The formal sit down reception will always be a popular choice but this is not for every couple on their wedding day. For some couples it is all about the food and others not so much. There are so many choices out there and couples are looking for something different, from food stations that are different not just a carving station but sushi station, waffles, tamale or dim sum stations or just some the popular options available. If you have a number of guests that have allergy's you have a station just for them, gluten, nut and diary free station.
The late night food option is still very popular and growing in its popularity, with taco trucks, ice cream truck, think personalized ice cream, different fries, French or thick cut with different sauces or my favorite, freshly made donuts. I can smell them now.
Follow along on Pinterest as trends for 2019 are updated throughout the coming year.