What is it really like to have a wedding during a pandemic??? This might be a question that you asking yourself, is it really possible to do this and what kind of experience will my guests have? The quick answer is yes! Just as it has always been, there are no "rules" anymore in regards to traditions. So out of the box and with a few unique twists is totally accepted! In fact, it's almost expected for a Covid wedding!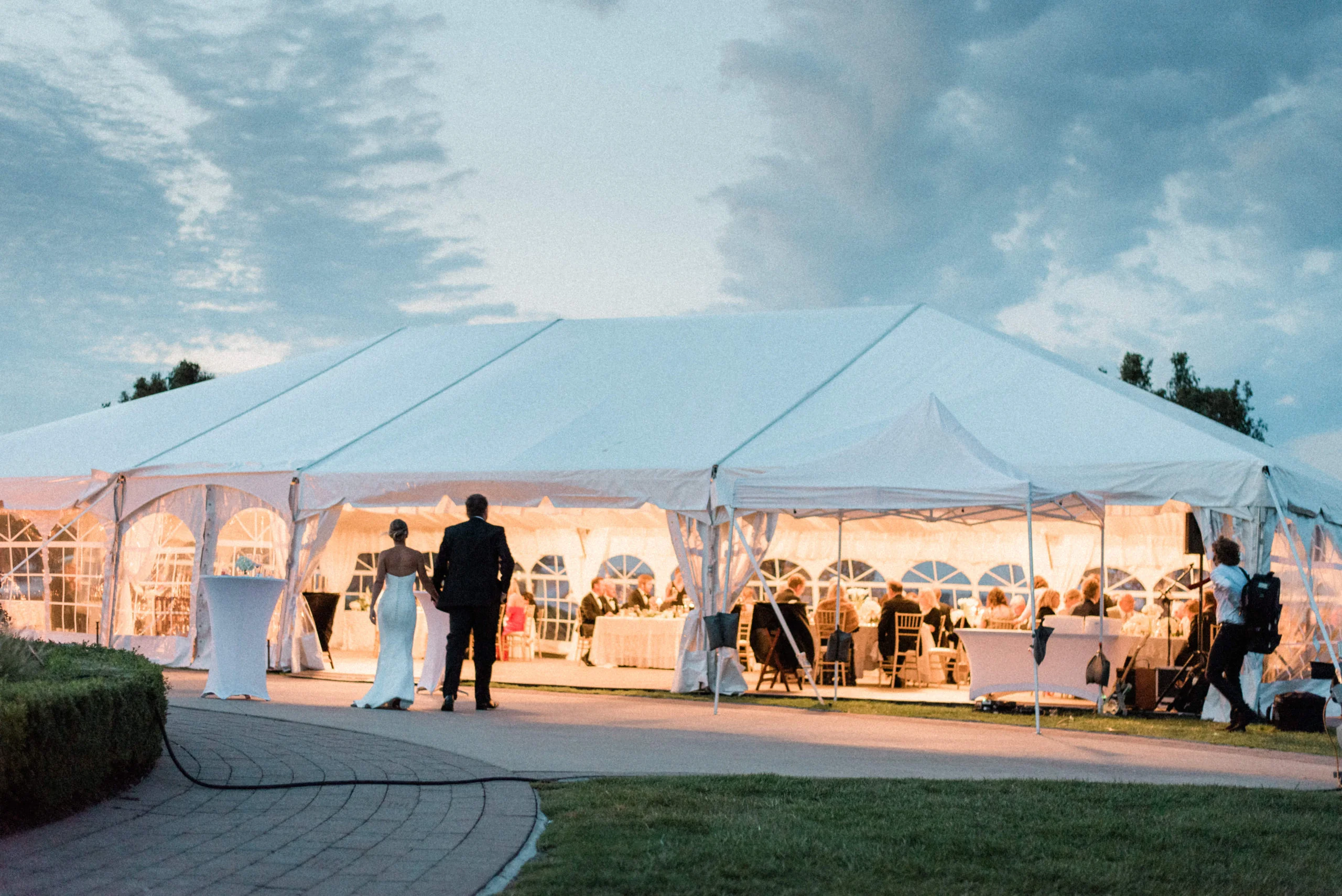 Let's dive in further. You can have your wedding with the right guidance and the correct protocols in place. There are a few more things to consider while planning now to ensure that you and the wedding guests will have a great experience, safely!
Just a few weeks ago I had planned my first COVID wedding here in Michigan, at Grosse Pointe Yacht Club. It is a stunning private club looking out at Lake St Claire and Canada. Simply Brilliant Events has planned many events at this venue but never in a tent! But nothing is typical during the Summer of 2020 with COVID still spreading.
Managing your Guest Count
If you are considering 300 guests to invite, you are not going to be able to have all of these guests attend. So how are you going to manage your guest list? You will need to set up some personal guidelines to determine how to cut that down for in-person attendance. But here are some guidelines to help get you started:
Did you invite 40 of your parent's friends because you felt like you had to?
Did you invite people you hadn't seen or talked to in years because they invited you to yours?
Did you invite a handful of random +1 guests to accommodate your solo friends and family?
Do children need to attend? It will be more difficult to keep social distancing when your child is running around near to different guest groups
Any high-risk people that you feel morally better about taking precautions? I know that you have wanted to have great-grandma to come but the seniors are most at risk, they also might be thankful and concerned about attending but didn't want to disappoint.
Keep in mind, remember everyone will understand and some guests are likely un-invite themselves as they do feel comfortable even with all the safety protocols in place.
Speaking of Protocols
Think about how your venue will work with the new protocols in place and how it may change your plans. For example, can you have the ceremony and reception in the same place? Here in Michigan, the weather is always a consideration. So while the ceremony maybe planned outside (which is safer) if the weather doesn't cooperate, a tent may be necessary. Will you want to consider a larger tent than usual to help with social distancing guidelines?
Social distancing recommendations will also affect the floor plan of your reception. While these recommendations will change, there are a few things to take into consideration currently. Right now, we plan on guest tables being at least 6 feet apart. Those tables should also fit no more than six guests at a table to minimize contact as well. A proper dance floor is also required to give guest room to move/dance safely.
Cheers to that!
Eating and drinking are some of the major components of your reception. But other than choosing your menu, there are now other details to take into consideration.
The bar is typically, this is an area where guests crowd and hangout, however, venues are allowing only one guest at a time to the bar. Bars will feature plex at the front of the bar to ensure safety and healthy distances from the staff. To make this process smoother, consider having extra wait staff to pass drinks, or even take orders from guests so they do need to go to the bar.
Your high tops in the same area should be much further apart than you would typically see.
Feature all passed appetizers so no one is heading to a buffet table. If your dinner is a buffet, stations will need to maned by the waitstaff and definitely not self-service. Keep in mind timing will change as they only allow a few people in the line at a time.
Staying safe
All the staff and vendors are also operating at the top of their game. In Michigan, all staff, vendors, and guests are required to wear masks at all times. They also don't want to get infected. But, you will want to take some time to determine what standards you will want to set for your guests. Do you want them to wear masks? If so, maybe provide some that are custom made for your wedding, at the very least have spares on hand. This will be easier to enforce at the ceremony then when the alcohol starts flowing!
How about hand sanitizer? Make it easier for guests to keep clean by providing hand sanitizer in the obvious places for people to find. At the welcome table at the ceremony, at the bar, and at the restrooms.
The bottom line, having your celebration is possible. At the end of the day, you and your fiancé will be able to tie the knot and begin the next chapter of your lives together! Contact Simply Brilliant Events to plan your wedding.
---
Vendors
Photographer: J and N Studios J and N Studios.com
Floral Design: Petit Fleur Events