A Ford Piquette Plant Wedding – Lauren and Tom originally from Michigan but now living in Switzerland had asked Simply Brilliant Events to plan a wedding that was truly Detroit.  After many venue tours, the Ford Piquette Plant downtown Detroit was the perfect fit.
The Ford Piquette Plant is truly a unique place for a wedding. it is one of the most significant automotive heritage sites in the world as the original Ford Motor Company factory from 1904.  If cars are your thing this is the place to visit.
The ceremony held on the first floor with a beautifully hand drawn design on a custom made chalk board back drop. The back drop made by Ruby Slippers and the art work by the lovely Sara of Kurtz McKinnon Creative.  Amazing work by both.
For cocktail hour and reception, guests moved to the second floor.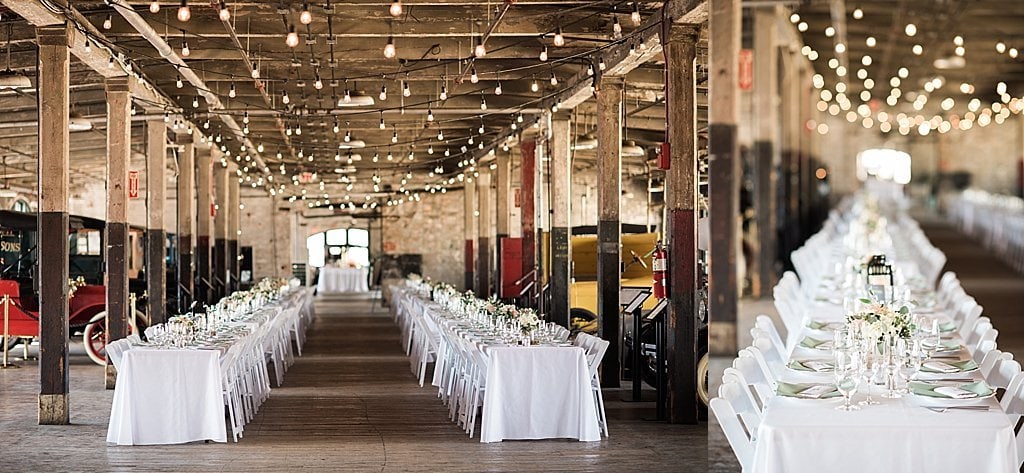 Amazing food by Slows BBQ, I especially liked how they presented the appetizers on wood and "Slows" crates.
Lauren and Tom had such a fun time on their wedding day, just looking at the wonderful images taken by Allie Siarto Photography, their happiness just shines through.
Nicola is a fantastic wedding planner. She made it relatively easy and fun for us – while living in Europe and both working full-time – to have an amazing wedding day from start to finish. Nicola managed our indecisiveness by seemingly intuitively understanding our wants and needs and providing guidance and suitable recommendations for vendors, linens, design, etc.! The Aisle Planner software was an added bonus that helped keep us on track. She was extremely flexible, as most of our meetings took place over Skype with a six-hour time difference. Additionally, she went above and beyond working with our venue's very specific regulations. Simply put, Nicola brilliantly got the job done for us – and we have and will continue to recommend her to family, friends, acquaintances, even strangers!
Love Lauren and Tom